Hi all! I am finally on a two week break from uni so I am able to draw again~ yay~~
Anywho~
I just want some of your opinions of some question I have in relation to creating this otome game my sister and I hope to create.
Here:
Content:
- How much intimacy with you lover do you want? (You're a high school gal in this game heheh - And this part depends on the character you choose to love)

Hugs and kisses will do just fine.
*blush*
Make it so hot that I squeal or swoon XD
- What things would you like in the game? The program I will be using to set this whole thing up will most likely be RPG maker vx Ace.
Just a simple visual novel with choices, story and images.
A mixture of a visual novel and a 2D rpg game. (This will be very hard to make and will take more time)
Skills and stats?
Do you want voice actors in this game? Someone to voice over the cg art moments?
Do you want a lot of choices? Some that will affect the romance level and some just to build up your character to make it feel like your own?
- Next up is story wise content:
Do you want the other characters to mingle a lot in your chosen lover's story? (You will choose your character at the beginning who you want to pursue.) They will make a lot of appearances in the story of course but how much do you want the to be involved in your love life? Rival romances? A shoulder to cry on?
Do you want a straight pathway to a true romance ending? Or do you want a few bad endings available depending on the choices you made?
A possible threat of death in the game?
The Antagonist:
- What kind of bad guy/girl do you like the most?
Cold and ruthless type.
Psychotic and bloodthirsty type.
One who ravishes me, kya~
All together in one guy/girl!
Just give me a fucking evil antagonist ok?
- Do you want to be able to pursue him as a love interest option?
Yep, I love taming the bad guys.
Uh no. He is evil and he is gonna stay that way.
- How much control does he/she have over you?
He/she have my life in his hands.
He/she is threatening me.
A mysterious figure I can not see.
Just a bully.
etc.
The Protagonist (YOU):
- What kind of heroine do you want to be?
Do you want to be the brave daring kind, where you in some cases save the one you love?
Do you want to be the damsel in distress, to be saved by your lover and to be spoiled (depending on your choice of guy)?
Mixture of both?
Do you want a hidden power?
- What do you want to be at the end of the game?
Same species as my lover. We will stay toether in his world.
Human still. He will come to the human world with me.
Something else entirely.
I am dead. X-X
- What do you want your character design to look like? (Character customization is way out of my reach, skills wise, at the moment with game making >.<)
To be average looking?
To be cute?
To not even appear? (which will change the way I will have to draw the cg art/screenshots >.<)
What colour schemes suit you?
Any of these designs take your fancy from other games? here: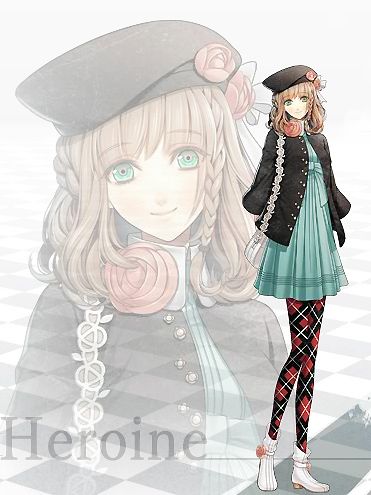 Anything else you wanna say or ask just shout!
That's all I gotta ask at this moment in time.
thanks 4 ur time guys ^^
<3